Home
Talk

5
514pages on
this wiki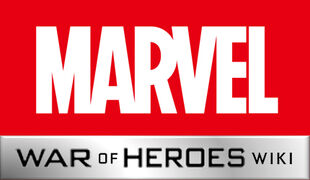 Welcome to the Marvel: War of Heroes Wiki
A community site based on the electronic card battle game Marvel: War
of Heroes by DeNA and Marvel Entertainment that everyone can edit.
We currently have 41,178 edits to 514 articles and 1,504 images on this wiki.
About • Help Pages • Manual of Style • Community Portal • Forum • Chat • Admin • Policy • Contact






In order to keep this Wiki tidy, please do not post the following in the comment sections or pages:
---
• REFERRAL CODES • TRADES • ALLIANCE RECRUITMENT • ADVERTS • EXPLOITS • HACKS •
---
Failure to comply will result in administrative action, including being banned.





[Telekinesis] Jean Grey (Super Special Rare)


Jean's telepathy allows her to read, influence, control, and communicate with the minds of others, project her mind into the astral plane, and generate telepathic force blasts that can stun or kill others.

[Telekinesis] Jean Grey+ (Ultimate Rare)
Her telekinesis is at a supremely high power-level. She uses her telekinesis to often lift herself and others giving her the ability of levitation and flight. She uses her telekinesis to create durable shields and energy blasts.

Max ATK: 10,369
Max DEF: 10,112
Omega Beauty: Significantly strengthen ATK of your Bruisers.



Getting more bosses shared.
created by O-Deka-K 2 minutes ago

A Wikia contributor 169.233.52.189

I don't remember having a problem with this the last two raids, but I'm getting maybe 1 boss shared with me every 20 to 30 minutes or so... 

Just wait a bit. The raid bosses start off at low level, and anyone with half-decent cards can one-shot them. As you progress, the boss levels ... 



To write a new article, just enter the article title in the box below.

To create a card page with form, enter the card name and choose a form.
A newly recruited beginner?
Adding content
Wiki Community
Head over to the forums for more help or to talk about Marvel: War of Heroes.
Make a blog post and share your thoughts, ideas, opinions and news.







5/22/2013 - New Cards Released
New Raider Cards have been released for the upcoming Defenders Raid Event!

5/22/2013 - New Cards Revealed
New Reward Cards have been revealed for the upcoming Defenders Raid Event!

5/17/2013 - New Cards Releaserd
New Cards have been released as part of the Villain Smackdown pack!