Hela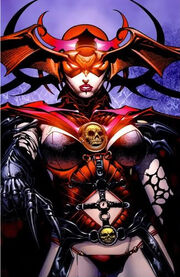 Rarity: Ultimate Rare
Power Requirement: 32
Sale Price: 244,800
Maximum Card Level: 70
Maximum Mastery Level: 45
Quote:
Base Attack / Defense: 3080 / 2940
Maximum Attack / Defense: 8838 / 8470
Mastery Bonus ATK / DEF: 1328 / 930
Alignment: Tactics
Gender: Female
Faction: Villain
Ability: Hand of Glory
Usage: High
Effect: Extremely intensify Attack of this card.
Figured there's been enough talk about there not being any female cards at the UR level. Not that this really makes up for there not being one in game though lol.
Ad blocker interference detected!
Wikia is a free-to-use site that makes money from advertising. We have a modified experience for viewers using ad blockers

Wikia is not accessible if you've made further modifications. Remove the custom ad blocker rule(s) and the page will load as expected.